The new Range Rover Sport - expected to arrive in 2013 as a 2014 model – has been spied out testing ahead of a probable reveal at Geneva 2013.
The 2013 Range Rover is almost upon us (it will officially arrive at the Paris Motor Show next month and we should have a reveal before), but what of its lively sibling, the Range Rover Sport?
The Range Rover Sport is expected to arrive at Geneva 2013 and go on sale towards the end of 2013 – as a 2014 model – and it will be a very different animal to the current Range Rover Sport.
Based on  the same Jaguar XJ derived underpinnings as the 2013 Range Rover, the new Range Rover Sport will be far more dynamic – and quicker – than the current model thanks to a huge drop in weight in the underpinnings compared to the current model, which rests on a modified Discover platform, and which weighs about the same as a small planet.
We're expecting the new Range Rover Sport to come with a choice of three engines when it arrives – the familiar 3.0 litre diesel and 5.0 litre V8 S/C plus the new V6 Supercharged engine the Jaguar XJ and Jaguar F-Type are getting.
We're also expecting the huge loss in weight on the new Sport and some very clever suspension updates – with lessons learned from the Evoque's very good setup – to transform the Range Rover Sport in to the best on-road Sporty SUV there is.
The 3.0 litre diesel should see its 0-62mph drop under 7 seconds, the S/C V6 should get in under 6 seconds and the V8 S/C should be mid 4 seconds – as good as it gets for a sporty SUV.
The three different new Range Rover Sports in the video below (complete with Volvo inspired camouflage) are all sporting the 3.0 litre diesel V6 – which should be the big seller when the new Range Rover Sport hits showrooms – but we'll be on the lookout for V6 and V8 Supercharged versions.
2014 Range Rover Sport Spy Video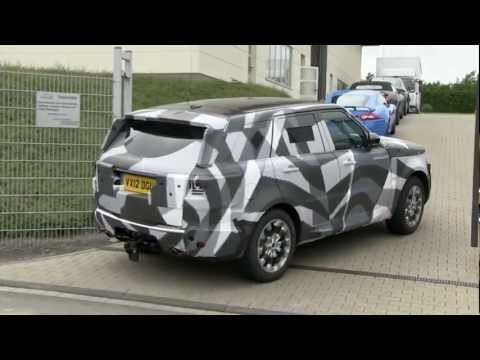 Source: WCF