Ferrari has put a new website up dedicated to LaFerrari with details and specifications and we have new live photos of LaFerrari from Geneva.
Is LaFerrari the star car of the 2013 Geneva Motor Show? Probably, but it's a close run thing with the McLaren P1.
We've already looked at the McLaren P1 from Geneva (it seemed only fair as LaFerrari grabbed the opening headlines at its first reveal), so, as requested by many, we've now got a Geneva live look at Ferrari's new F150/F70/new Enzo – LaFerrari.
The first photos we had of LaFerrari were Ferrari's usual studio shots which told us it was glorious, but glorious on Ferrari's terms.
But the live pictures of LaFerrari from Geneva show that the Ferrari shots weren't lying; the new Ferrari really is a belter. It tugs at the soul, as it should, and if the bank balance was big enough it would tug at that too. But with a price tag of €1.3 million – and far more buyers lined up than cars – it wouldn't matter even if you have the money, you won't get one.
We've already covered the specs of LaFerrari, but, again, as requested, we've posted the official specs below for your delectation.
Ferrari has also put up a new website dedicated to LaFerrari where we thought, initially, we'd be able to go and configure our dream LaFerrari. But, as we already know, the only 'option' – beyond colour choice – is to delete the nose lift system.
So instead of a LaFerrari configurator, Ferrari has posted details of everything from the Hy-Kers system, Chassis and bodyshell and Architecture to Aerodynamics, LaFerrari Dynamics and styling plus plenty of photos (but you've already seen those) and more videos too. And you can change the colour of LaFerrari under the syling tab and view it – with a choice between Nero (black), Rosso Corsa (red) and Giallo Modena (yellow). Worth a look.
LaFerrari Video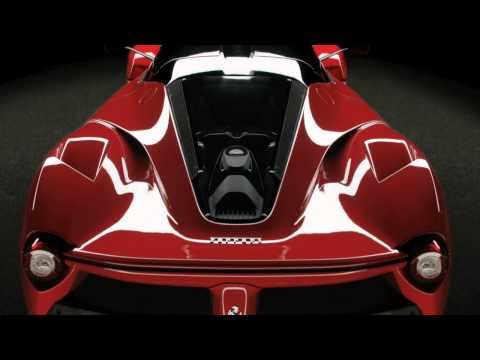 LaFerrari Technical Specifications
HY-KERS system
Total maximum power
963 CV
Total maximum torque
>900 Nm
V12 maximum power*
800 CV @9000 rpm
Maximum revs
9250 rpm
V12 maximum torque
700 Nm @6750 rpm
Electric motor output
120 Kw (163 CV)
CO2 emissions**
330 g/km

Performance
Maximum speed
over 350 km/h
0-100 km/h
<3 sec
0-200 km/h
<7 sec
0 – 300 km/h
15 sec

ICE
Type
65-deg. V12
Bore and stroke
94 x 752 mm
Total displacement
6262 cc
Compression ratio
13.5:1
Specific power
128 CV/l

Dimensions
Length
4702 mm
Width
1992 mm
Height
1116 mm
Wheelbase
2650 mm
Weight distribution
41% fr, 59% r

Gearbox
7-speed DCT

Suspensions
Front
double wishbones
Rear
multi-link

Tyres(Pirelli P-Zero)
Front
265/30 – 19
Rear
345/30 – 20

Carbon ceramic brakes (Brembo)
Front
398 x 223 x 36 mm
Rear
380 x 253 x 34 mm

Electronic controls
ESC
stability control
High performance ABS/EBD
Performance anti blockage system/electronic brake balance
EF1-Trac
F1 electronic traction control integrated with the hybrid system
E-Diff 3
third generation electronic differential
SCM-E Frs
magnetorheological damping with twin solenoids (Al-Ni tube)
Aerodynamics
active