BMW has now released information on the 2010 / 2011 BMW 5 Series Touring. We have all the information, video and photo gallery.
After yesterday's leak of photos of the 2011 BMW 5 Series Touring, we did say BMW would probably get their act together and do the official release this weekend. After all, there's precious little point not doing so when the information is already roaming the Interweb. BMW obviously concur as we had a 5 Series Touring photo gallery, video and a pile of bumph drop in last night.
As expected, the BMW 5 Series Touring will, when it goes on sale in September, come with a choice of two petrol cars – the 523i and 535i – and two diesel cars – the 520d and 530d, although it would be astonishing if that's where things end. BMW will no doubt stick every engine combo they can muster in the 5 Series Touring at some point, from a Hybrid to an M5. But for now, a choice of just four.
The main point of the 5 Touring has to be its ability to lug stuff around, so as the 5 Series has grown in this generation (which as it uses the same platform as the 7 Series is no big surprise) you get an extra 12% boot space with the seats up (560 litres) even though the back end now looks lower and more coupe-like. You also get a more than useful 1560 litres with all seats down, and you can opt to split the seat drops 40:20:40.
Big seller in the UK will be the 520d Touring, which offers 184bhp, 0-60mph in 8.1 seconds, 54.3 mpg, a top speed of 138mph and CO2 emissions of 137g/km. All of which is incredibly hard to argue against if you want a stylish, good-driving load-lugger that won't cost an arm and a leg to run.
The performance model – at least for now – is the single turbo 535i which offers 306bhp, 0-60mph in 5.8 seconds, 32.8mpg, a top speed of 155mph (limited) and CO2 emissions of 201g/km (which won't interest you one dot if you've opted for the 535i instead of the 520d).
Much of what you get on the 2010 5 Series carries over to the 5 Series Touring, as you would expect. Toys like an 8-Speed auto 'box, integral active steering, heads-up display, night vision and lane departure can all be specified, as can a chunk of other options. The 520d Touring starts at £30,380 but start speccing it up and you'll be heading towards £40k before you know what's happening.
All the bumph is in the 2010 / 2011 BMW 5 Series Touring Press Release and there's a decent size gallery of photos at the bottom, together with a video of the 5 Series Touring.
It's a fine car, the 5 Series Touring. Always has been. Subtle and understated and doing the job it was designed to astonishingly well. And its existence calls in to question the point of the 5 Series GT. But at least we get the choice. Our colonial cousins don't. They're stuck with the 5 Series GT and almost certainly won't get the 5 Series Touring.
Which, to use the US vernacular, is a bit of a bummer.
BMW 5 Series Touring 2010/2011 Video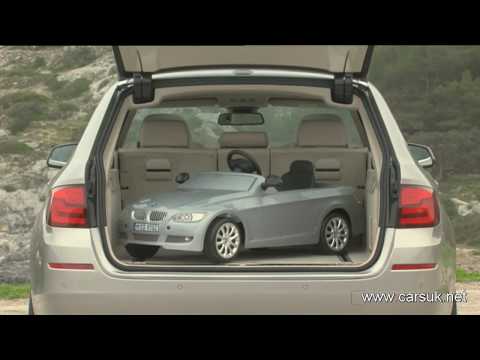 BMW 5 Series Touring 2010/2011 Photo Gallery