Two mad Norwegians – Joel Olsen and Ingar Byman – have transplanted the Ford V8 from the Koenigsegg CCX in to a Mk II Granada – Project ZZZ…ZZZ.
The MK II Granada was a perfectly decent big Ford in the days Ford made big cars. Wallowy, yes, but better as the 2.8i than the 2.8 and even quite fun in a 'piloting a barge' sort of way.
In its day the Granada managed to deliver something in the region 150bhp, decent figures for its time. Tuners could take that up towards 200bhp, but no one could have conceived that a Granada could ever deliver really serious performance.
But a pair of barking mad and seemingly deep-pocketed Norwegians - Joel Olsen and Ingar Byman – have spent the last five years, and probably more money than they care to count, building the ultimate Granada with the potential to deliver up to 1700bhp. Yes, you read that right, 1700bhp.
In typical Scandinavian 'Men in a Shed' fashion the two Norwegians have spent the last five years making the Granada a contender for the ultimate 'Q' car title by fitting it with the engine from a Koenigsegg CCX. That's the Ford V8 seriously fettled by that other bunch of Scandinavian men in a shed led by the intrepid Christian von Koenigsegg.
They've fitted a new rear suspension from a Mustang Cobra and fitted a set of Porsche brakes to give their Granada a fighting chance of putting the power down and stopping before they end up in a Fjord, and ended up with a car that is like nothing else on the planet.
They seem to have heaps of problems along the way (they should have given Christian a call) but it looks like their project zzz…zzz is now ready to rock and roll.
You can check out some of the photos of the Granada Koenigsegg in the gallery below, and there are more on the Zzz…Zzz Facebook page.
Granada Koenigsegg Photos
Granada Koenigsegg Video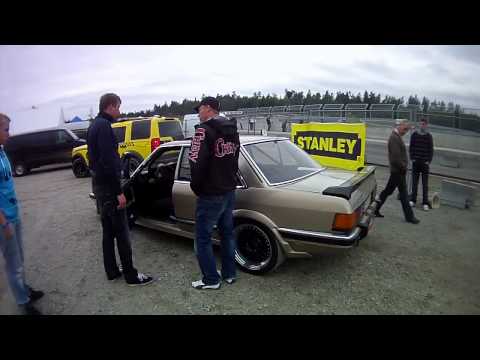 Source: Corsa Sport (via Autoblog)